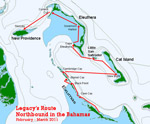 We departed Cambridge Cay in the Exumas and headed nearly due east to Cat Island. We anchored off the settlement of New Bight, renowned for the Hermitage, a mini-monastery retirement home built by Father Jerome.

We stayed at New Bight for two nights to give us time to tour the Hermitage and to visit with the grrlz special friends, Ed and Karen from Passages. We also took advantage of the lcal bakers and bought a coconut pie and fresh baked loaves of cinnamon and white bread.

Although the winds and seas were generally out of the northeast, our sailing along the west side of the islands was well protected from the worst effects. We sailed from New Bight to West Bay on the island of Little San Salvador.

Little San Salvador is privately owned by Holland America and they have turned West Bay, the only anchorage on the island, into a playground for cruise ship passengers. Three are water toys galore, horseback riding, thousands of lounge chairs, diving trips, bars, and food. We were fortunate that the night we arrived there had not been a cruise ship in, so it was sleepy and deserted. By the next morning ferries bringing more workers started arriving and they bustled like ants getting ready for the arrival of a ship.

We departed just as a ship was arriving and sailed north to Cape Eleuthera Marina where we hung out for a couple of days while a front passed through the area.

From Cape Eleuthera we motorsailed (at least when we weren't running out of fuel -- see the blog for details) to Governor's Harbor. Governor's Harbor is actually a pretty nice harbor and a lovely town. There is one problem however...the seabed in the anchorage is very hard and it is particularly difficult to get the anchor set. Governor's Harbor was the original capitol of the Bahamas and we enjoyed the attractive older buildings and homes.

From Governor's Harbor we sailed to Current Cut, one of the few places you can get from the shallow waters to the west of Eleuthera to the deeper waters of new Providence Channel. We slipped through the shallow and narrow cut and anchored just to the north in the Lee of Current Settlement.

We motorsailed from Current Cut to Nassau, again towing our fishing lures without success. We spent several days in Nassau waiting for the right weather conditions for our dash to Marathon which we broke up with a little shopping and sightseeing.